eBook for physicians, medical practitioners and doctors
The guide from symptom to diagnosis for rheumatic diseases
Written by doctors, for doctors - the only standard work on this subject in the English language
Completely revised, updated and expanded by international authors
For the Amazon Kindle, Tolino, iPad or your computer
Details
Format
PDF, EPUB, MOBI, AZW
Devices
Kindle, eReader, iPad, Computer
Date of publication
August 1, 2021
Language
English
ISBN
978-3-85928-105-9
Publisher
Rheuma Schweiz
Editors

Zeidler, Henning

|

West, Sterling G.

|

Michel, Beat A.

Authors

Brunner, Florian

|

Büchi, Stefan

|

Hügle, Thomas

|

Jenewein, Josef

|

Kuchen, Stefan

|

Maurer, Britta

|

Michel, Beat

|

Rubbert-Roth, Andrea

|

Von Kempis, Johannes

|

Zeidler, Henning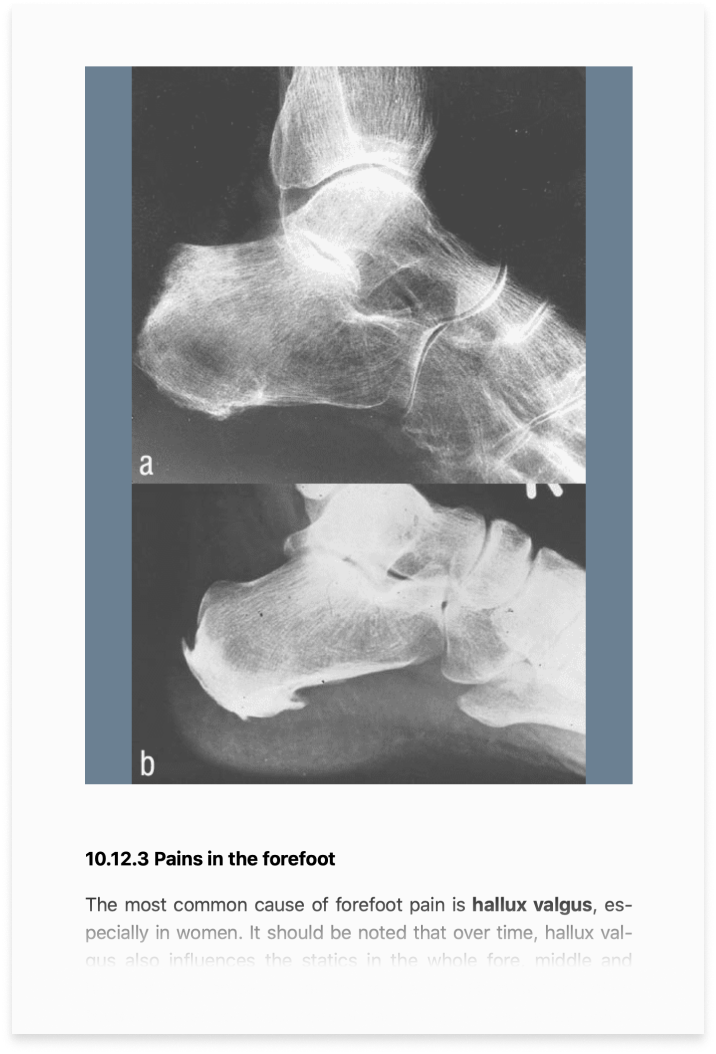 I use the Rheumatology eBook as a reference work for my daily clinical practice and when training doctors at our clinic. I have also saved the PDF version on my computer so that I can use it as a desktop application.
Dr. med. Thomas Langenegger
Senior Physician, Medical Clinic / Rheumatology and Osteoporosis
Zug Cantonal Hospital
One of the most interesting aspects of rheumatology is the detective work required when making a differential diagnosis and considering the many symptoms which play a role. Having the Rheumatology eBook on my phone in my coat pocket is extremely helpful when carrying out this task.
Dr. med. Stella Mollet
Senior Physician, Rheumatology Clinic
Zürich University Hospital and Bethanien RheumaClinic
The eBook provides useful tips for practical everyday use. The authors' extensive experience is apparent in every chapter. The digital version is excellent.
Dr. med. Natalie Ortega-Zilic
Senior Physician Rheumatology
Balgrist University Clinic, Zürich
Intro
There is a wide spectrum of conditions under the term of rheumatic and musculoskeletar disorders (RMD's), whose common feature and leading symptom is pain in the musculoskeletal system often accompanied by functional disability.
Such a symptomatic definition covers a wide variety of etiologically, pathogenetically as well as clinically different entities, some of which may not have their primary namifestation in the musculoskeletal system. The differential diagnosis is therefore often a challenge.
However, an accurate diagnosis is crucial for appropriate management and this needs a careful evaluation of the differential diagnosis.
About this eBook
This eBook helps the reader to go from symptom to diagnosis in the case of rheumatic diseases. Illustrated is the entire spectrum of musculoskeletal pain and diseases associated with rheumatic diseases in their differential diagnostic aspects.
A detailed presentation of the basics is followed by a detailed description of all important differential diagnoses.
This ebook has been completely revised and updated by the authors.